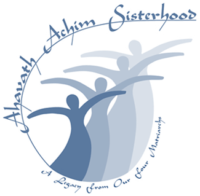 About
Z'havah - The Next Generation of Sisterhood
Slate
Membership Directory
Mah Jongg Card Fundraiser
Amazon Fundraiser
About
A woman's legacy lives on as a participant in a a warm, dynamic organization among women of all ages with diverse experiences, talents, and interests in our synagogue, community, and the Jewish world. Your Sisterhood Membership will nurture:
Year-Round Programming: Latte 'n Learn, Naomi's Book Club, Rosh Chodesh discussion groups, Mah Jongg, cultural outings to plays, museums, and more
Congregational Enrichment: New Member Shabbat Dinner, Rosh Hashanah apples and honey, Synagogue Directory, Worship in Pink for Breast Cancer awareness, Sisterhood Shabbat, and synagogue beautification
AA Youth: Religious School support, gifts for consecration, B'nai Mitzvah, 7th grade graduation, and Confirmation; scholarships for Jewish camps, programs, and Israel study; and holiday packages for college students
Community Outreach: Rebecca's Tent – Shearith Israel, Zaban Paradies Center, William Breman Jewish Home, and Jewish Family and Career Services
Z'havah - The Next Generation of Sisterhood
The young women's initiative of the AA Sisterhood that offers programs and activities for those looking to share common interests. We celebrate and explore our Jewish identities through a series of programs that focus on fun, education, and social action.
For more information on Z'havah, please contact Co-Chairs, Rachael Joseph at rachaelfjoseph@gmail.com or Allison Feldman at allfeldman@yahoo.com.
Slate
2018 – 2019 Slate of Officers
Co-Presidents – Debra Elovich and Judy Marx
VPs of Programming – Shelly Dollar and Barbara Ribner
VPs of Donor Fundraising – Betty Behr and Jennifer Rosenfeld
VPs of Donor Event – Beth Friedman and Lori Harber
VPs of Membership – Alyson Lapes and Debra Siegel
VPs of Torah Fund – Francis Galishoff and Shari Neumann
Z'havah Co-Presidents – Allison Feldman and Rachael Joseph
Corresponding Secretaries – Janet Kupshik and Vickie Reisman
Treasurer – Laura Nelson
Financial Secretary – Patsy Little
Recording Secretary – Leigh Boros
Parliamentarians – Susan Berkowitz and Brenda Silverman
Membership Directory
It's that time of year again for the publication of the 2018-2019 AA Membership Directory, coordinated by AA Sisterhood. This year's directory is dedicated to Stanley Srochi and in memory of his wife, Joan. The expected date of publication will be December 2017.
We are in need of ads, ad solicitors (new and/or repeated), and various administrative opportunities. Ads will be seen by more than 1,000 people, as well as support our synagogue's school and programming for children and teens.
This is a short-term commitment and we're counting on your participation. For more information or to volunteer, contact the Directory Co-Chairs (Barbara Nathan at bgnathan@mindspring.com or Delcy Pardo Harber at delcyharber@comcast.net).
Contracts for download:
Mah Jongg Card Fundraiser
Order your new 2018 Mah Jongg cards!
Standard size cards = $8; Large size = $9.
Please email Barbara Nathan at bgnathan@mindspring.com with your order. Please list the names and addresses of all recipients so they can receive their card in the mail (or list your name and how many to be mailed to you).
Please make checks payable to AA Sisterhood and send to Barbara Nathan at 200 Brandon Place, Sandy Springs, GA 30328 by January 15, 2018.
Amazon Fundraiser
Amazon Sisterhood Fundraiser
Sisterhood invites you to do your online shopping with us, at Amazon.com. This link works with or without an Amazon account. By shopping through Sisterhood's associate link, you allow us to receive up to 15% of your total purchase, including gift cards.
Click here to start shopping!