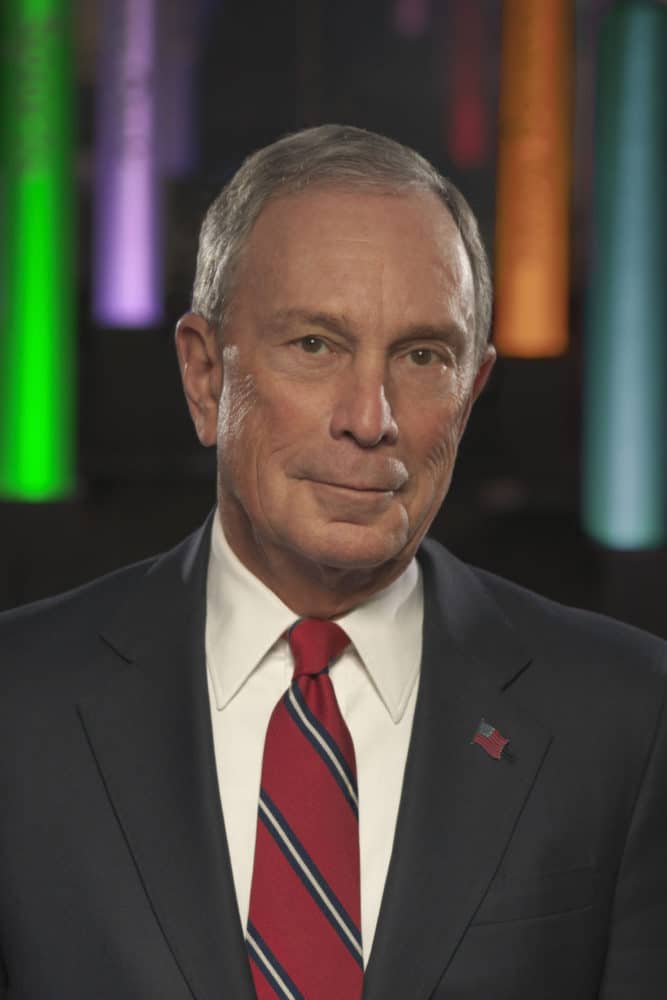 Our 2016 Speaker: Michael R. Bloomberg
Michael R. Bloomberg, three-term Mayor of New York City, philanthropist and entrepreneur was featured in a conversation with Stuart Eizenstat, former ambassador and key statesman in the administrations of Jimmy Carter and Bill Clinton, at the 2016 Fran Eizenstat and Eizenstat Family Annual Lecture at Ahavath Achim Synagogue in Atlanta on Tuesday, July 19 at 7:30 p.m.
The Eizenstat Lecture is an annual, free public event featuring well-known speakers addressing current and thought-provoking issues. Past speakers include national and international political, legal and economic leaders such as last-year's speaker Vice President Joe Biden, Hillary Clinton, Bill Clinton, Jimmy Carter, Henry Kissinger, Madeleine Albright, Shimon Perez, Ruth Bader Ginsburg, Stephen Breyer, Joseph Lieberman, Al Gore, Alan Dershowitz, Paul Dundes Wolfowitz and Herman Wouk.
Michael R. Bloomberg, entrepreneur, philanthropist and public servant, was raised in a middle class family in Medford, Massachusetts. He received a B.S. from Johns Hopkins University and MBA from Harvard. He began his financial career with Salomon Brothers where he oversaw equity trading and sales, and later information systems. In 1981, he founded Bloomberg LP, using information technology to bring efficiency and transparency to the trading of financial securities. Bloomberg LP now employs more than 1,900 people globally in 73 countries.
In 2001, Bloomberg became the 108th Mayor of the City of New York, an office he held until 2013. During his three-term tenure, he succeeded in improving the city's public school system, stimulated public and private sector economic growth and job creation, implemented public health strategies that included banning smoking in indoor workspaces and parks and beaches, cut the City's carbon footprint by 19 percent making New York City's air cleaner than it has been in more than 50 years, built bi-partisan coalitions to fight illegal guns, reform immigration and invest in infrastructure, and expanded public and private support of the arts.
Since leaving public office, Bloomberg has devoted himself to philanthropic endeavors, supporting projects of great importance to him including public health, arts and culture, the environment, education and government innovation. He also currently serves as the UN Secretary-General's Special Envoy for Cities and Climate Change.
This is the 28th installment of the Eizenstat Lecture. Established in 1987 by former Ambassador to the European Union, Stuart Eizenstat, to honor the memories of his family members, the Lecture features distinguished world figures speaking on national and international topics. Mr. Eizenstat served in key positions in President Jimmy Carter's administration, including Chief Domestic Policy Adviser and Executive Director of the White House Domestic Policy Staff, and in President Bill Clinton's administration, including Deputy Treasury Secretary, Under Secretary of State for Economic, Business and Agricultural Affairs, and Undersecretary of Commerce for International Trade. Mr. Eizenstat currently heads the international practice of the law firm Covington & Burling in Washington, D.C.
Ahavath Achim Synagogue (AA) is a dynamic, egalitarian, Conservative Jewish congregation that has served Atlanta since 1886. For more than 125 years, AA has been an integral part of the Atlanta community, with strong leadership and involvement in civic, social and cultural affairs.
Previous Eizenstat Lecture Speakers
2015       Vice President Joe Biden
2014       Thomas L. Friedman
2013       The Honorable Ron Dermer
2012       Justice Stephen Gerald Breyer
2011        David Brooks
2010       The Honorable Michael B. Oren
2009       The Honorable Al Gore
2007       Justice Ruth Bader Ginsburg
2006       Paul Wolfowitz, Ph.D
2005       The Honorable Hillary Rodham Clinton
2004       The Honorable Ehud Olmert
2003       The Honorable Bill Clinton
2002       The Honorable Jimmy Carter
2001       U.S. Secretary of State Madeleine Albright
2000       The Honorable Joseph Lieberman
1999       Herman Wouk
1998       Professor Alan Dershowitz
1997       Cantor Benjamin Muller & Choir
1996       The Honorable Shimon Peres
1995       Rabbi Shlomo Riskin
1994       The Honorable Itamar Rabinovich
1993       The Honorable Simcha Dinitz
1992       The Honorable Teddy Kollek
1991       The Honorable Dr. Henry Kissinger
1990       The Honorable Abba Eban
1989       Natan Sharansky
1988       Elie Wiesel